| | |
| --- | --- |
| Posted on November 20, 2012 at 10:10 AM | |
"Run run as fast as you can, you can't catch me I'm the Gingerbread Man!" These words spoken by the lively character from the classic Gingerbread Man folk tale is a story that is timeless and enjoyed by all age groups. In a preschool setting, a curriculum can focus on the gingerbread man in a variety of ways. The following article will predominantly focus on book variations of the story theme, preschool crafts and songs while also noting different concepts that can be learned within the activities surrounding the Gingerbread Man theme.
The Story of the Gingerbread Man
Before beginning a theme on the gingerbread man (a week is suggested, but it could last longer), the story must be told. There are many versions of the gingerbread man available. Start the week with the telling of the traditional folk tale. The ending of the story can be addressed with questions to the children, such as "did you like the ending?" and "how would you have changed the ending?" Furthermore, try asking the children, "What would happen to the cookie if it went in the water?" As the week goes on, read different versions of the story and continue the conversation with the preschoolers with questions such as, "how is this story different and how it is the same?" This reflective process will help illustrate to the preschool children, among other things, about looking at stories differently with individual creativity. The story could be relayed by book or other ways such as felt stories, puppets, CD, or viewed on DVD. The following list provides various Gingerbread Man Stories, some in very different formats:
The Gingerbread Man by Jim Aylesworkh and Barbara McClintock (Scholastic Press, 1998)
The Gingerbread Man retold by Eric A. Kimmel (Holiday House Inc., 1992)
Gingerbread Man Superhero! by Dotti Enderle (Pelican Publishing, 2009)
Gingerbread Boy by Richard Egielski( Harper Collins, 2000)
Gingerbread Baby by Jan Brett (GP Putnam and Sons, 1999)
Gingerbread Girl by Lisa Campbell Ernst (Dutton Juvenile, 2006)
Preschool Arts and Craft Ideas with the Gingerbread Man Story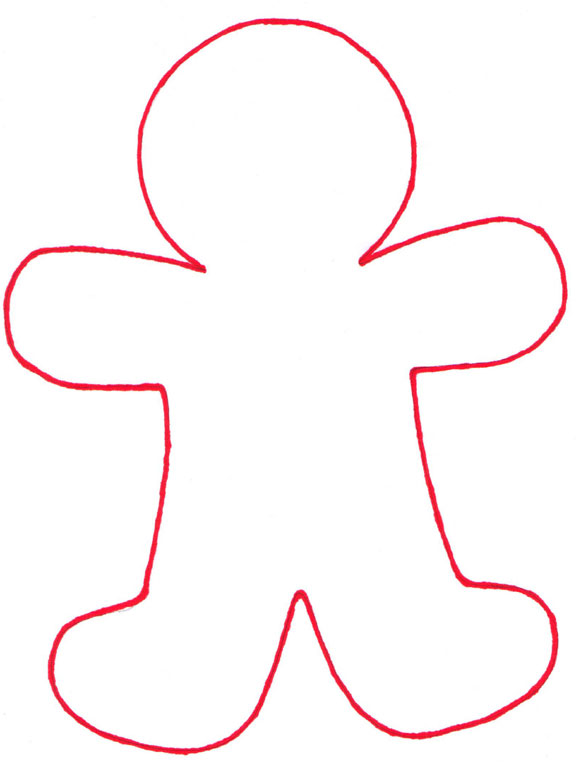 Click on image to find website to print the template.
1. One of the easier craft ideas for the gingerbread man theme is to cut out the gingerbread man for preschoolers to decorate. If the children are preschool age, they can cut out their own gingerbread man that is pre-traced on brown paper beforehand. Once the shape is available, the children can decorate their man, or woman, boy or girl, with craft supplies. Some suggestions are:
buttons
crayons
felt pen
pom poms
beads
color cotton balls
yarn
cheerios
popcorn
2. Another craft idea for the gingerbread man story is to have pictures of the story on a piece of paper, but not in order and have the children cut the pieces out. Then, the children are challenged with attaching their story pieces in proper order onto another larger piece of paper with glue. This paper will have numbered squares drawn out like a storyboard. This craft activity helps children with language development and sequencing.
Preschool Songs about the Gingerbread Man and other Group Circle Activities
Circle time is a place where the gingerbread man story theme can be carried out in other manners. There are many songs that can be sung about the gingerbread man story.
This one is sung to the tune of Skip to My Lou:
Chorus:
Run, run as fast as you can
Run, run as fast as you can
Run, run as fast as you can
You can't catch me,
I'm the Gingerbread Man!
I ran from the man, yes I did
I ran from the man, yes I did
I ran from the man, yes I did
Cause I'm the gingerbread man
Continue this song with all the characters from the story and then the song could end with...
I ran from everyone, yes I did
I ran from everyone, yes I did
I ran from everyone, yes I did
But I couldn't run from the fox...
Chomp!
Another song to sing comes with gingerbread men on popsicle sticks. Each child is given one and then acts out the following song with their "puppet" and this song is a version of the Hokey Pokey:
You put your cookie up, you put your cookie down, you put your cookie up and you shake him all around
You do the cookie pokey and you turn yourself around and that's what it's all about!
You put your cookie in the front, you put your cookie in the back
You put your cookie in the front and you give your knee a whack.
You do the cookie pokey and you turn yourself around and that's what it's all about!
You put your cookie to your head, you put your cookie to your toe
You put your cookie to your head and you wobble to and fro
You do the cookie pokey and you turn yourself around and that's what it's all about!!
Felt Board Activity
At circle time, try making gingerbread men and women out of felt material and make pairs. Each pair should have unique characterstics in the decoration and clothing. Each child in the group circle is given one of the gingerbread people and must find it's matching person on the felt board. This activity is great for transitioning out of circle time and could also be used at a separate station. In addition, the gingerbread pairs could be uppercase and lowercase letters to match, or matching numbers to dots.
The Gingerbread Men throughout the Preschool Classroom
Here are some other suggestions on how to place the gingerbread man throughout a preschool classroom :
playdough
coloring sheets and activity sheets
decorating real gingerbread cookies
baking set up in drama area
story felt pieces for children to explore
puppet telling and drama time
Preschool children are filled with active imagination, which makes their age such a wonderful time. The gingerbread man story falls nicely into such creativity while allowing a fun way to focus on other developmental concepts within a preschool curriculum.
Further Reading Suggestions:
CIRCLE OF IDEAS offering Early Childhood Online Workshops
Categories: None